The Birds of Southwest Ecuador
by Paul Coopmans, John V. Moore, Niels Krabbe, Olaf Jahn, Karl S. Berg, Mitch Lysinger, Lelis Navarrete and Robert S. Ridgely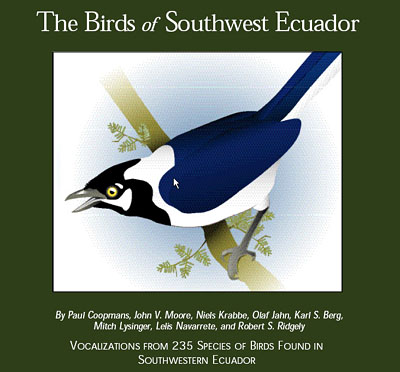 Features almost 1000 separate vocalizations from 235 species found in Southwestern Ecuador. The habitats covered are diverse and range from desert, desert scrub and dry forest to humid forest, and also include lakes, marshes, salt ponds, sandy beaches, and mangroves. A large number of species and subspecies confined to the important "Tumbesian Endemic Area" are featured. Includes: Pinnated Bittern; Pearl Kite; Rufous-necked Wood-Rail; Croaking Ground-Dove; Gray-capped Cuckoo; Anthony's Nightjar; Ecuadorian Piculet; Blackish-headed, Necklaced, and Line-cheeked Spinetail; Rufous-necked and Henna-hooded Foliage-gleaner; Collared and Chapman's Antshrike; Jet and Gray-headed Antbird; Watkins's and Rusty-breasted Antpitta; Elegant Creascentchest; Pale-headed Brush-Finch, Tumbes and Black-capped Sparrow; Tumbesian and Gray-and-White Tyrannulet; Tumbes Pewee; Short-billed Field-Tyrant; Sooty-crowned and Baird's Flycatcher; Black-and-white Tanager; Black-cowled Saltator; Crimson-breasted Finch; Parrot-billed Seedeater; Collared Warbling-Finch; White-edged Oriole; Saffron Siskin and many others.
5 CDs, 68-page booklet. Published 2004. Suggested retail price: $25.95
Pale-browed Tinamou Crypturellus transfasciatus
Andean Tinamou Nothoprocta pentlandii
Neotropic Cormorant Phalacrocorax brasilianus
Anhinga Anhinga anhinga
Cocoi Heron Ardea cocoi
Great Egret Ardea alba
Tricolored Heron Egretta tricolor
Little Blue Heron Egretta caerulea
Snowy Egret Egretta thula
Cattle Egret Bubulcus ibis
Striated Heron Butorides striatus
Black-crowned Night-Heron Nycticorax nycticorax
Yellow-crowned Night-Heron Nyctanassa violacea
Least Bittern Ixobrychus exilis
Pinnated Bittern Botaurus pinnatus
White Ibis Eudocimus albus
Chilean Flamingo Phoenicopterus chilensis
Horned Screamer Anhima cornuta
Fulvous Whistling-Duck Dendrocygna bicolor
Black-bellied Whistling-Duck Dendrocygna autumnalis
Comb Duck Sarkidiornis melanotos
White-cheeked Pintail Anas bahamensis
Blue-winged Teal Anas discors
Osprey Pandion haliaetus
Hook-billed Kite Chondrohierax uncinatus
Pearl Kite Gampsonyx swainsonii
Snail Kite Rostrhamus sociabilis
Gray-backed Hawk Leucopternis occidentalis
Common (Mangrove) Black-Hawk Buteogallus anthracinus
Great Black-Hawk Buteogallus urubitinga
Savanna Hawk Buteogallus meridionalis
Harris's Hawk Parabuteo unicinctus
Gray Hawk Buteo nitidus
Short-tailed Hawk Buteo brachyurus
Variable (Red-backed) Hawk Buteo polyosoma
Northern Crested-Caracara Caracara cheriway
American Kestrel Falco sparverius
Peregrine Falcon Falco peregrinus
Rufous-headed Chachalaca Ortalis erythroptera
Rufous-fronted Wood-Quail Odontophorus erythrops
Limpkin Aramus guarauna
White-throated Crake Laterallus albigularis
Gray-breasted Crake Laterallus exilis
Clapper Rail Rallus longirostris
Rufous-necked Wood-Rail Aramides axillaris
Plumbeous Rail Pardirallus sanguinolentus
Purple Gallinule Porphyrio martinica
Common Gallinule Gallinula chloropus
Wattled Jacana Jacana jacana
American Oystercatcher Haematopus palliatus
Black-necked Stilt Himantopus mexicanus
Peruvian Thick-knee Burhinus superciliaris
American Golden Plover Pluvialis dominica
Gray Plover Pluvialis squatarola
Semipalmated Plover Charadrius semipalmatus
Wilson's Plover Charadrius wilsonia
Killdeer Charadrius vociferus
Snowy Plover Charadrius alexandrinus
Collared Plover Charadrius collaris
Short-billed Dowitcher Limnodromus griseus
Whimbrel Numenius phaeopus
Greater Yellowlegs Tringa melanoleuca
Lesser Yellowlegs Tringa flavipes
Spotted Sandpiper Actitis macularia
Willet Catoptrophorus semipalmatus
Ruddy Turnstone Arenaria interpres
Sanderling Calidris alba
Semipalmated Sandpiper Calidris pusilla
Least Sandpiper Calidris minutilla
Pectoral Sandpiper Calidris melanotos
Stilt Sandpiper Calidris himantopus
Kelp Gull Larus dominicanus
Gray-hooded Gull Larus cirrocephalus
Laughing Gull Larus atricilla
Franklin's Gull Larus pipixcan
Gull-billed Tern Sterna nilotica
Sandwich Tern Sterna sandvicensis
Royal Tern Sterna maxima
Pale-vented Pigeon Columba cayennensis
Eared Dove Zenaida auriculata
West Peruvian Dove Zenaida meloda
Plain-breasted Ground-Dove Columbina minuta
Ecuadorian Ground-Dove Columbina buckleyi
Croaking Ground-Dove Columbina cruziana
Blue Ground-Dove Claravis pretiosa
White-tipped Dove Leptotila verreauxi
Ochre-bellied Dove Leptotila ochraceiventris
Great Green Macaw Ara ambigua
Red-masked Parakeet Aratinga erythrogenys
El Oro Parakeet Pyrrhura orcesi
Pacific Parrotlet Forpus coelestis
Gray-cheeked Parakeet Brotogeris pyrrhopterus
Red-lored Amazon Amazona autumnalis
Gray-capped Cuckoo Coccyzus lansbergi
Smooth-billed Ani Crotophaga ani
Groove-billed Ani Crotophaga sulcirostris
Striped Cuckoo Tapera naevia
West Peruvian Screech-Owl Otus roboratus
Pacific Pygmy-Owl Glaucidium peruanum
Burrowing Owl Speotyto cunicularia
Striped Owl Asio clamator
Common Potoo Nyctibius griseus
Lesser Nighthawk Chordeiles acutipennis
Anthony's Nightjar Caprimulgus anthonyi
Tumbes Swift Chaetura ocypetes
Baron's Hermit Phaethornis baroni
Emerald-bellied Woodnymph Thalurania hypochlora
Tumbes Hummingbird Leucippus baeri
Loja Hummingbird Amazilia amazilia alticola
Amazilia Hummingbird Amazilia amazilia amazilia
White-vented Plumeleteer Chalybura buffonii
Long-billed Starthroat Heliomaster longirostris
Short-tailed Woodstar Myrmia micrura
Little Woodstar Acestrura bombus
Northern Violaceous Trogon Trogon caligatus
Ecuadorian Trogon Trogon mesurus
Ringed Kingfisher Ceryle torquata
Green Kingfisher Chloroceryle americana
Blue-crowned Motmot Momotus momota
Ecuadorian Piculet Picumnus sclateri
Scarlet-backed Woodpecker Veniliornis callonotus
Smoky-brown Woodpecker Veniliornis fumigatus
Pacific Hornero Furnarius cinnamomeus
Slaty Spinetail Synallaxis brachyura (erratum: recording #4 was recorded near Piņas in El Oro, not along the Rio Ayampe on the Guayas/Manabi border)
Blackish-headed Spinetail Synallaxis tithys
Necklaced Spinetail Synallaxis stictothorax
Line-cheeked Spinetail Cranioleuca antisiensis
Streaked Xenops Xenops rutilans
Rufous-necked Foliage-gleaner Syndactyla ruficollis
Henna-hooded Foliage-gleaner Hylocryptus erythrocephalus
Olivaceous Woodcreeper Sittasomus griseicapillus
Streak-headed Woodcreeper Lepidocolaptes souleyetii
Red-billed Scythebill Campylorhamphus trochilirostris
Collared Antshrike (piurae) Sakesphorus bernardi
Collared Antshrike (bernardi) Sakesphorus bernardi
Chapman's Antshrike Thamnophilus zarumae
Plain Antvireo Dysithamnus mentalis
Jet Antbird Cercomacra nigricans
White-backed Fire-Eye Pyriglena leuconota
Gray-headed Antbird Myrmeciza griseiceps
Watkins's Antpitta Grallaria watkinsi
Rusty-breasted Antpitta Grallaricula ferrugineipectus
Elegant Crescentchest Melanopareia elegans
Ecuadorian (El Oro) Tapaculo Scytalopus robbinsi
Southern Beardless-Tyrannulet Camptostoma obsoletum
Tumbesian Tyrannulet Phaeomyias tumbezana
Yellow Tyrannulet Capsiempis flaveola
Pacific Elaenia Myiopagis subplacens
Greenish Elaenia Myiopagis viridicata
Gray-and-white Tyrannulet Pseudelaenia leucospodia
Yellow-bellied Elaenia Elaenia flavogaster
Sooty-headed Tyrannulet Phyllomyias griseiceps
Loja Tyrannulet Zimmerius flavidifrons
Rufous-winged Tyrannulet Mecocerculus calopterus
Tawny-crowned Pygmy-Tyrant Euscarthmus meloryphus
Common Tody-Flycatcher Todirostrum cinereum
Yellow-olive Flatbill Tolmomyias sulphurescens
Pacific Royal-Flycatcher Onychorhynchus coronatus
Bran-colored Flycatcher Myiophobus fasciatus
Gray-breasted Flycatcher Lathrotriccus griseipectus
Tumbes Pewee Contopus punensis
Vermilion Flycatcher Pyrocephalus rubinus
Short-tailed Field-Tyrant Muscigralla brevicauda
Masked Water-Tyrant Fluvicola nengeta
Ochraceous Attila Attila torridus
Dusky-capped Flycatcher Myiarchus tuberculifer
Sooty-crowned Flycatcher Myiarchus phaeocephalus
Boat-billed Flycatcher Megarynchus pitangua
Social Flycatcher Myiozetetes similis
Baird's Flycatcher Myiodynastes bairdii
Streaked Flycatcher Myiodynastes maculatus
Snowy-throated Kingbird Tyrannus niveigularis
Black-and-white Becard Pachyramphus albogriseus (erratum: recording #1 was made near Piņas in El Oro, not along the Rio Ayampe on the Guayas/Manabi border)
Slaty Becard Pachyramphus spodiurus
One-colored Becard Pachyramphus homochrous
Gray-breasted Martin Progne chalybea
Tumbes Swallow Tachycineta stolzmanni
Chestnut-collared Swallow Hirundo rufocollaris
Fasciated Wren Campylorhynchus fasciatus
Speckle-breasted Wren Thryothorus sclateri
Superciliated Wren Thryothorus superciliaris
House Wren Troglodytes aedon "lumped"
Gray-breasted Wood-Wren Henicorhina leucophrys
Long-tailed Mockingbird Mimus longicaudatus
Andean Slaty-Thrush Turdus nigriceps
Plumbeous-backed Thrush Turdus reevei
Ecuadorian Thrush Turdus maculirostris
Long-billed Gnatwren Ramphocaenus melanurus
Tropical Gnatcatcher Polioptila plumbea
White-tailed Jay Cyanocorax mystacalis
House Sparrow Passer domesticus
Red-eyed Vireo Vireo olivaceus
Rufous-browed Peppershrike Cyclarhis gujanensis
Saffron Siskin Carduelis siemiradzkii
Tropical Parula Parula pitiayumi
Mangrove Warbler Dendroica erithachorides
Olive-crowned Yellowthroat Geothlypis semiflava
Black-lored Yellowthroat Geothlypis auricularis
Gray-and-gold Warbler (fraseri) Basileuterus fraseri
Gray-and-gold Warbler (ochraceicrista) Basileuterus fraseri
Three-banded Warbler Basileuterus trifasciatus
Black-and-white Tanager Conothraupis speculigera
Ashy-throated Bush-Tanager Chlorospingus canigularis
Highland Hepatic-Tanager Piranga lutea
Blue-gray Tanager Thraupis episcopus
Thick-billed Euphonia Euphonia laniirostris
Silver-backed Tanager Tangara viridicollis
Crimson-breasted Finch Rhodospingus cruentus
Band-tailed Sierra-Finch Phrygilus alaudinus
Cinereous Finch Piezorhina cinerea
Collared Warbling-Finch Poospiza hispaniolensis
Blue-black Grassquit Volatinia jacarina
Drab Seedeater Sporophila simplex
Parrot-billed Seedeater Sporophila peruviana
Chestnut-throated Seedeater Sporophila telasco
Large-billed Seed-Finch Oryzoborus crassirostris
Dull-colored Grassquit Tiaris obscura
Saffron Finch Sicalis flaveola
Sulphur-throated Finch Sicalis taczanowskii
Bay-crowned Brush-Finch Atlapetes seebohmi
White-winged Brush-Finch Atlapetes leucopterus
White-headed Brush-Finch Atlapetes albiceps
Pale-headed Brush-Finch Atlapetes pallidiceps
Orange-billed Sparrow Arremon aurantiirostris
Black-capped Sparrow Arremon abeillei
Tumbes Sparrow Aimophila stolzmanni
Streaked Saltator Saltator striatipectus
Black-cowled Saltator Saltator nigriceps
Southern Yellow-Grosbeak Pheucticus chrysogaster
Peruvian Meadowlark Sturnella bellicosa
Scrub Blackbird Dives warszewiczi
Great-tailed Grackle Quiscalus mexicanus
Shiny Cowbird Molothrus bonariensis
Yellow-tailed Oriole Icterus mesomelas
White-edged Oriole Icterus graceannae
Yellow-rumped Cacique Cacicus cela
---
Feedback?: tell the webmaster.