Sounds of La Selva, Ecuador
John V. Moore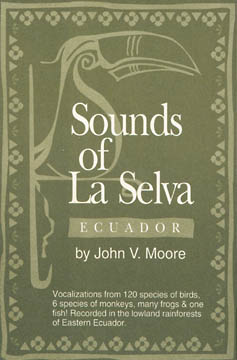 Vocalizations from 120 species of birds, 6 species of monkeys, many frogs & and one fish! Recorded in the lowland rainforests of Eastern Ecuador. Narrated.
I have tried to present these nature sounds in a way that I, as an amateur, would like to hear them. Therefore, the sounds are arranged as part of a hypothetical 2 1/2 day, 3 night stay at La Selva.
Cassette. First published 1993, 3rd edition 2004. Suggested retail price: $12.50
White-banded Swallow
Boat-billed Flycatcher
also Great Kiskadee.
Ruddy Pigeon
Violaceous Jay
also Black-mantle Tamarin.
Cobalt-winged Parakeet
also Hoatzin.
Buff-breasted Wren (3rd edition) / Coraya Wren (First two editions. Was erroneously listed as "Buff-breasted Wren". Background species were Masked Crimson Tanager and White-necked Heron).
White-throated Toucan ("Cuvier's Toucan" on editions 1 and 2)
also Orange-winged Amazon (aka Orange-winged Parrot).
Short-tailed Swift
also Screaming Piha and Red-capped Cardinal.
Black-billed Thrush
also Yellow-rumped Cacique and Gilded Barbet ("Black-spotted Barbet" on editions 1 and 2).
Screaming Piha
Crimson-crested Woodpecker
White-breasted Wood-Wren
Frog
also Blue-crowned Manakin.
Dusky Titi Monkey
also Black-faced Antthrush and White-throated Toucan ("Cuvier's Toucan" on editions 1 and 2).
Channel-billed Toucan ("Yellow-ridged Toucan" on editions 1 and 2).
also Violaceous Trogon, Opal-crowned Tanager, and Thrush-like Wren.
Golden-collared Toucanet
also Squirrel Cuckoo and Gilded Barbet (" Black-spotted Barbet" on editions 1 and 2).
Many-banded Aracari
also Scarlet Macaw.
Spix's Guan
also Crested Eagle.
Black-banded Owl
also Tree Frog.
Buff-throated Woodcreeper
also Spot-winged Antshrike.
Scale-backed Antbird
also Cinnamon-throated Woodcreeper and Common Piping-Guan.
Olive-backed Foliage-gleaner
also Chestnut-belted Gnateater.
Slate-colored Grosbeak
also Russet-backed Oropendola.
Horned Screamer
also Wattled Jacana, Black-capped Donacobius, Tropical Kingbird, and Lineated Woodpecker.
Yellow-billed Nunbird
also Grayish Saltator.
Ringed Kingfisher
also Caquetá Seedeater ("Variable Seedeater" on editions 1 and 2) and Green-and-rufous Kingfisher.
Red-bellied Macaw
also Chestnut-fronted Macaw.
Long-billed Woodcreeper
also Hoatzin, Lawrence's Thrush, Silver-beaked Tanager, Gray-fronted Dove, and Straight-billed Woodcreeper.
Purplish Jacamar
also Black-headed Parrot.
Greater Ani
also Gray-fronted Dove.
Red Howler Monkey
also White-shouldered Antbird and Gray-headed Tanager.
Casqued Oropendola
also Green Oropendola and Crested Oropendola
Erratum: Green O. is erroneously identified as Olive O. on the cassette cover and in the spoken commentary.
Sunbittern
also Mealy Amazon (aka Mealy Parrot).
Cocha Antshrike
also Várzea Schiffornis ("Greater Manakin" on editions 1 and 2).
Speckled Chachalaca
also Blue-and-yellow Macaw and Ruddy Pigeon.
Wire-tailed Manakin
also Buff-throated Foliage-gleaner, Gray Antwren, and Chestnut-winged Hookbill.
Bicolored Antbird ("White-cheeked Antbird" on editions 1 and 2)
also Black-spotted Bare-eye.
Common Woolly Monkey
Gray-winged Trumpeter
Chestnut-headed Crake
also Amazonian White-tailed Trogon and immature Lawrence's Thrush
Erratum (first two editions only): the Thrush in the background was erroneously identified as "Hauxwell's Thrush". The correct song of Hauxwell's Thrush is on "Ecuador: more bird vocalizations from the Lowland Rainforest" Vol. 3.
Lesser Kiskadee
also Smooth-billed Ani and Great Jacamar.
Frogs
Tawny-bellied Screech-Owl
also Long-tailed Potoo.
Pauraque
also Boat-billed Heron.
Fish
Rufescent Tiger-Heron
also Bats and Common Potoo.
Zigzag Heron
also Hoatzin.
Cinnamon Attila
Cream-colored Woodpecker
also Point-tailed Palmcreeper.
Blue-crowned Motmot
Erratum (first two editions only): was identified as "Rufous Motmot" in the spoken text and leaflet. Rufous Motmot only occurs south of the Rio Napo.
also Plumbeous Antbird.
Gray-necked Wood-Rail
Yellow-billed Tern
Dusky-headed Parakeet
also Blue-headed Parrot, Yellow-crowned Amazon (aka Yellow-crowned Parrot), Mealy Amazon (aka Mealy Parrot), and Orange-cheeked Parrot.
Ochre-striped Antpitta
also Black-faced Antbird and Thrush-like Antpitta.
Long-billed Hermit ("Long-tailed Hermit" on editions 1 and 2)
also Cobalt-winged Parakeet.
Banded Antbird
also Cinereous Mourner.
Golden-mantle Tamarin
also Plumbeous Pigeon.
Striped Manakin
also Brown-rumped Foliage-gleaner and Yellow-tufted Woodpecker.
Frog
also Monk Saki Monkey, Red-billed Scythebill, and Coraya Wren.
Eastern Woodhaunter ("Striped Foliage-gleaner" on editions 1 and 2)
also Hairy-crested Antbird.
Ferruginous Pygmy-Owl
Frogs
also Tawny-bellied Screech-Owl.
Great Tinamou
Crested Owl
also Frogs.
---
Feedback?: tell the webmaster.