The Birds of Eastern Ecuador
Volume I: The Foothills and Lower Subtropics
by Mitch Lysinger, John V. Moore, Niels Krabbe, Paul Coopmans, Daniel F. Lane, Lelis Navarrete, Jonas Nilsson, and Robert S. Ridgely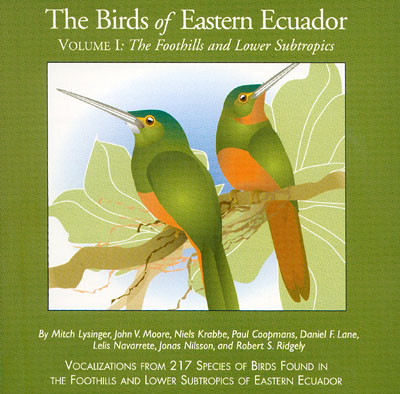 This 5 CD publication presents 814 separately announced recordings of 217 species. It includes the voices of nearly all the birds typical of the foothills and lower subtropics of eastern Ecuador and the Río Marañón drainage in southernmost Ecuador, except for many of those that are commonly found in other parts of Ecuador and were treated in earlier publications by John V. Moore Nature Recordings.
The foothills and lower subtropics are wonderfully rich in birds, both tropical, montane and endemic. Many are poorly known, especially those confined to wet, low-lying ridges east of the Andes. In addition, the Río Marañón drainage combines birds from both humid eastern and arid south-western Ecuador with its many endemic forms.
5 CDs, 55-page booklet. Published 2005. Suggested retail price: $25.95
Gray Tinamou Tinamus tao kleei
Black Tinamou Tinamus osgoodi hershkovitzi
Highland Tinamou Nothocercus bonapartei plumbeiceps
Brown Tinamou Crypturellus obsoletus castaneus
Tataupa Tinamou Crypturellus tataupa inops
Solitary Eagle Harpyhaliaetus solitarius solitarius
Orange-breasted Falcon Falco deiroleucus
Wattled Guan Aburria aburri
Rufous-breasted Wood-Quail Odontophorus speciosus soederstroemii
Russet-crowned Crake Laterallus viridis viridis
Blackish Rail Pardirallus nigricans nigricans
Red-winged Wood-Rail Aramides calopterus
Scaled Pigeon Columba speciosa
Marañón Pigeon Columba oenops
Military Macaw Ara militaris militaris
Maroon-tailed Parakeet Pyrrhura melanura
White-breasted Parakeet Pyrrhura albipectus
Spot-winged Parrotlet Touit stictopterus
Foothill Screech-Owl Otus roraimae napensis
West Peruvian Screech-Owl Otus roboratus roboratus
Rufescent Screech-Owl Otus ingens ingens
Cinnamon Screech-Owl Otus petersoni
Subtropical Pygmy-Owl Glaucidium parkeri
Band-bellied Owl Pulsatrix melanota melanota
Oilbird Steatornis caripensis
Blackish Nightjar Caprimulgus nigrescens
Rufous Nightjar Caprimulgus rufus
Lyre-tailed Nightjar Uropsalis lyra lyra
White-chinned Swift Cypseloides cryptus
White-chested Swift Cypseloides lemosi
Pale-rumped Swift Chaetura egregia
Green Hermit Phaethornis guy apicalis
Gray-chinned Hermit Phaethornis griseogularis griseogularis
White-tipped Sicklebill Eutoxeres aquila aquila
Buff-tailed Sicklebill Eutoxeres condamini condamini
Green-fronted Lancebill Doryfera ludovicae ludovicae
Blue-fronted Lancebill Doryfera johannae johannae
Napo Sabrewing Campylopterus villaviscensio
Violet-headed Hummingbird Klais guimeti guimeti
Fork-tailed Woodnymph Thalurania furcata viridipectus
Golden-tailed Sapphire Chrysuronia oenone oenone
Many-spotted Hummingbird Taphrospilus hypostictus hypostictus
Andean Emerald Amazilia franciae cyanocollis
Ecuadorian Piedtail Phlogophilus hemileucurus
Violet-fronted Brilliant Heliodoxa leadbeateri sagitta
White-tailed Hillstar Urochroa bougueri leucura
Chestnut-breasted Coronet Boissonneaua matthewsii
Emerald-bellied Puffleg Eriocnemis alinae alinae
Greenish Puffleg Haplophaedia aureliae russata
Booted Racket-tail Ocreatus underwoodii peruanus
Wedge-billed Hummingbird Schistes geoffroyi geoffroyi
Gorgeted Woodstar Chaetocercus heliodor cleavesi
Coppery-chested Jacamar Galbula pastazae
Striolated Puffbird Nystalus striolatus striolatus
Black-streaked Puffbird Malacoptila fulvogularis fulvogularis
Red-headed Barbet Eubucco bourcierii orientalis
Chestnut-tipped Toucanet Aulacorhynchus derbianus derbianus
Note: this is track 1-57 in the booklet but track 1-58 on the CDs.
Black-mandibled Toucan Ramphastos ambiguus
Note: this is track 1-58 in the booklet but track 1-57 on the CDs.
Rufous-breasted Piculet Picumnus rufiventris rufiventris
Golden-olive Woodpecker Piculus rubiginosus buenavistae
White-throated Woodpecker Piculus leucolaemus
Smoky-brown Woodpecker Veniliornis fumigatus fumigatus
Crimson-bellied Woodpecker Campephilus haematogaster haematogaster
Dusky Spinetail Synallaxis moesta brunneicaudalis
Marañón Spinetail Synallaxis maranonica
Chestnut-throated Spinetail Synallaxis cherriei napoensis
Ash-browed Spinetail Cranioleuca curtata cisandina
Rufous-fronted Thornbird Phacellodomus rufifrons peruvianus
Equatorial Graytail Xenerpestes singularis
Buff-browed Foliage-gleaner Syndactyla rufosuperciliata cabanisi
Montane Foliage-gleaner Anabacerthia striaticollis montana
Rufous-rumped Foliage-gleaner Philydor erythrocercum subfulvum
Rufous-tailed Foliage-gleaner Philydor ruficaudatum ruficaudatum
Buff-fronted Foliage-gleaner Philydor rufum bolivianum
Bamboo Foliage-gleaner Anabazenops dorsalis
Ruddy Foliage-gleaner Automolus rubiginosus brunnescens
Black-billed Treehunter Thripadectes melanorhynchus melanorhynchus
Streaked Xenops Xenops rutilans
Gray-throated Leaftosser Sclerurus albigularis zamorae
Sharp-tailed Streamcreeper Lochmias nemat
Long-tailed Woodcreeper Deconychura longicauda connectens
Olive-backed Woodcreeper Xiphorhynchus triangularis triangularis
Brown-billed Scythebill Campylorhamphus pusillus pusillus
Lined Antshrike Thamnophilus tenuepunctatus
Northern Slaty-Antshrike Thamnophilus punctatus leucogaster
Russet Antshrike Thamnistes anabatinus aequatoriali
Plain Antvireo Dysithamnus mentalis
White-streaked Antvireo Dysithamnus
Stripe-chested Antwren Myrmotherula longicauda
Foothill Antwren Myrmotherula spodionota spodionota
Slaty Antwren Myrmotherula schisticolor interior
Plain-winged Antwren Myrmotherula behni behni
Yellow-breasted Antwren Herpsilochmus axillaris aequatorialis
Rufous-winged Antwren Herpsilochmus rufimarginatus frater
Striated Antbird Drymophila devillei devillei
Rufous-rumped Antwren Terenura callinota callinota
Blackish Antbird Cercomacra nigrescens aequatorialis
Erratum: cut # 3 is a copy of cut # 2, and not the recording described in the booklet.
White-backed Fire-eye Pyriglena leuconota castanoptera
Rufous-breasted Antthrush Formicarius rufipectus thoracicus
Short-tailed Antthrush Chamaeza campanisona punctigula
Plain-backed Antpitta Grallaria haplonota chaplinae
Ochre-breasted Antpitta Grallaricula flavirostris flavirostris
Chestnut-crowned Gnateater Conopophaga castaneiceps
Marañón Crescentchest Melanopareia maranonica
Northern White-crowned Tapaculo Scytalopus atratus atratus
White-fronted Tyrannulet Phyllomyias zeledoni leucogonys
Sooty-headed Tyrannulet Phyllomyias griseiceps
Plumbeous-crowned Tyrannulet Phyllomyias plumbeiceps
Golden-faced Tyrannulet Zimmerius chrysops chrysops
Red-billed Tyrannulet Zimmerius cinereicapilla
Southern Beardless-Tyrannulet Camptostoma obsoletum maranonicum
Foothill Elaenia Myiopagis olallai
Lesser Elaenia Elaenia chiriquensis albivertex
Olive-striped Flycatcher Mionectes olivaceus fasciaticollis
Slaty-capped Flycatcher Leptopogon superciliaris superci
Ecuadorian Tyrannulet Phylloscartes gualaquizae
Rufous-browed Tyrannulet Phylloscartes superciliaris griseocapillus
Spectacled Bristle-Tyrant Pogonotriccus orbitalis
Yellow Tyrannulet Capsiempis flaveola cerula
Bronze-olive Pygmy-Tyrant Pseudotriccus pelzelni pelzelni
Scale-crested Pygmy-Tyrant Lophotriccus pileatus pileatus
Buff-throated Tody-Tyrant Hemitriccus rufigularis
Cinnamon-breasted Tody-Tyrant Hemitriccus cinnamomeipectus
Black-and-white Tody-Flycatcher Poecilotriccus capitalis capitalis
Golden-winged Tody-Flycatcher Poecilotriccus calopterus
Common Tody-Flycatcher Todirostrum cinereum peruanum
Dusky-tailed Flatbill Ramphotrigon fuscicauda
Large-headed Flatbill Ramphotrigon megacephalum pectorale
Fulvous-breasted Flatbill Rhynchocyclus fulvipectus
Yellow-olive Flatbill Tolmomyias sulphurescens
Olive-faced Flatbill Tolmomyias viridiceps viridiceps
White-throated Spadebill Platyrinchus mystaceus zamorae
Yellow-throated Spadebill Platyrinchus flavigularis flavigularis
Ornate Flycatcher Myiotriccus ornatus phoenicurus
Cinnamon Neopipo Neopipo cinnamomea cinnamomea
Erratum: on cut # 2, the tinamou in the background is not Gray-legged T. Crypturellus duidae, but White-throated T. Tinamus guttatus.
Tawny-breasted Flycatcher Myiobius villosus clarus
Orange-crested Flycatcher Myiophobus phoenicomitra phoenicomitra
Olive-chested Flycatcher Myiophobus cryptoxanthus
Western Wood-Pewee Contopus sordidulus
Blackish Pewee Contopus nigrescens nigrescens
Olive-sided Flycatcher Contopus cooperi
Cliff Flycatcher Hirundinea ferruginea sclateri
Rufous-tailed Tyrant Knipolegus poecilurus peruanus
Long-tailed Tyrant Colonia colonus
Brown-crested Flycatcher Myiarchus tyrannulus tyrannulus
Sooty-crowned Flycatcher Myiarchus phaeocephalus interior
Lemon-browed Flycatcher Conopias cinchoneti cinchoneti
Golden-crowned Flycatcher Myiodynastes chrysocephalus minor
Yellow-cheeked Becard Pachyramphus xanthogenys xanthogenys
Black-and-white Becard Pachyramphus albogriseus salvini
Sharpbill Oxyruncus cristatus
Scarlet-breasted Fruiteater Pipreola frontalis squamipectus
Andean Laniisoma Laniisoma buckleyi buckleyi
Gray-tailed Piha Lathria subalaris
Amazonian Umbrellabird Cephalopterus ornatus
White-crowned Manakin Dixiphia pipra coracina
Blue-rumped Manakin Lepidothrix isidorei isidorei
Golden-winged Manakin Masius chrysopterus peruvianus
Green Manakin Chloropipo holochlora holochlora
Jet Manakin Chloropipo unicolor
Thrush-like Schiffornis Schiffornis turdina aenea
Inca Jay Cyanocorax yncas longirostris
Rufous-browed Peppershrike Cyclarhis gujanensis contrerasi
Black-billed Peppershrike Cyclarhis nigrirostris nigrirostris
Red-eyed Vireo Vireo olivaceus pectoralis
Rufous-naped Greenlet Hylophilus semibrunneus
Olivaceous Greenlet Hylophilus olivaceus
Erratum: cut # 5 was not recorded at locality 78, but 58 (or maybe 61 or 62).
Spotted Nightingale-Thrush Catharus dryas maculatus
Swainson's Thrush Catharus ustulatus swainsoni
Marañón Thrush Turdus maranonicus
White-thighed Swallow Neochelidon tibialis griseiventris
Southern Rough-winged Swallow Stelgidopteryx ruficollis ruficollis
Gray-mantled Wren Odontorchilus branickii branickii
Speckle-breasted Wren Thryothorus sclateri sclateri
Bar-winged Wood-Wren Henicorhina leucoptera
Chestnut-breasted Wren Cyphorhinus thoracicus dichrous
Wing-banded Wren Microcerculus bambla albigularis
Erratum: on cut # 1 only 1 bird sings, not 2.
Black-lored Yellowthroat Geothlypis auricularis peruviana
Bananaquit Coereba flaveola magnirostris
Golden-collared Honeycreeper Iridophanes pulcherrimus pulcherrimus
Chestnut-vented Conebill Conirostrum speciosum amazonum
Golden-eyed Flowerpiercer Diglossopis glauca tyrianthina
Guira Tanager Hemithraupis guira huambina
Buff-bellied Tanager Thlypopsis inornata
Blue-naped Chlorophonia Chlorophonia cyanea longipennis
Orange-bellied Euphonia Euphonia xanthogaster brevirostris
Purple-throated Euphonia Euphonia chlorotica taczanowskii
Bronze-green Euphonia Euphonia mesochrysa mesochrysa
Orange-eared Tanager Chlorochrysa calliparaea bourcieri
Golden Tanager Tangara arthus aequatorialis
Golden-eared Tanager Tangara chrysotis chrysotis
Golden-naped Tanager Tangara ruficervix taylori
Blue-browed Tanager Tangara cyanotis lutleyi
Metallic-green Tanager Tangara labradorides chaupensis
Blue-necked Tanager Tangara cyanicollis caeruleocephala
Spotted Tanager Tangara punctata zamorae
Yellow-throated Tanager Iridosornis analis
Orange-throated Tanager Wetmorethraupis sterrhopteron
Rufous-crested Tanager Creurgops verticalis
Vermilion Tanager Calochaetes coccineus
White-winged Tanager Piranga leucoptera ardens
Erratum: cut #3 probably presents a song of Orange-bellied Euphonia Euphonia xanthogaster, mimicking White-winged Tanager.
Olive Tanager Chlorothraupis frenata
White-lined Tanager Tachyphonus rufus
Ashy-throated Bush-Tanager Chlorospingus canigularis signatus
Yellow-throated Bush-Tanager Chlorospingus flavigularis flavigularis
Black-faced Tanager Schistochlamys melanopis grisea
Grayish Saltator Saltator coerulescens azarae
Streaked Saltator Saltator striatipectus peruvianus
Black-billed Seed-Finch Oryzoborus atrirostris atrirostris
Yellow-bellied Seedeater Sporophila nigricollis inconspicua
Red Pileated-Finch Coryphospingus cucullatus fargoi
Olive Finch Lysurus castaneiceps
Orange-billed Sparrow Arremon aurantiirostris spectabilis
Black-capped Sparrow Arremon abeillei nigriceps
Wedge-tailed Grass-Finch Emberizoides herbicola
Olivaceous Siskin Carduelis olivacea
Lesser Goldfinch Carduelis psaltria columbiana
---
Feedback?: tell the webmaster.